This particular strawberry cake was made a while back when Korean strawberries were in abundance in Singapore. These strawberries were much smaller in size as compared to the ones we usually see from Australia or USA. Furthermore they were very much cheaper in comparison to their Western "cousins".
I don't often make layer cakes now but when I do, I thoroughly enjoy the entire process. Especially the assemblying bit as I get to slowly see the entire cake come alive. I remembered when I first started my basic cake decorating class with Wilton. In the 4th and final lesson, each student had to present an iced cake and bring it to the class. We were then required to decorate the cake during the class itself for judging by the instructor. Once we passed the judging, we would then receive our certificate of basic cake decoration. I don't think I've ever heard of anyone failing as yet - you probably have to be really, really bad (and suck) at cake decorating in order to do so.
I had so much trouble trying to get the icing on the sides smooth and straight. I iced, and iced and re-iced over and over again until my hubby got really tired of my complaints. He then took over my spatula (in a business-like fashion), scrapped off the icing from the cake sides, re-layered it and started smoothening the sides. He said that it was simple ... just like layering a brick and then smoothening the cement and plaster off it. Cheez .... why didn't I ever think of it!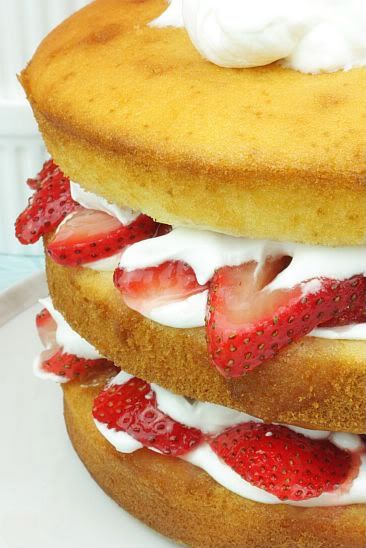 Triple Layer Strawberry Shortcake
Recipe Adapted from "Sky High: Irresistible Triple-Layer Cakes"
Makes a triple layer 6" cake
Ingredients:
5 Tbsp unslated butter, at room temperature
2/3 cup sugar
1 tsp vanilla extract
2 eggs
1 1/2 cups cake flour
2 1/2 tsp baking powder
1/4 ts[ salt
2/3 cup buttermilk
1 1/2 cups non-dairy "Whip & Pour"
Fresh strawberry filling
Whole strawberries for garnishing
Method:
1) Preheat oven to 350 degrees. Grease bottoms and sides of cake pans. Line bottom with parchment paper and grease the paper.
2) Cream butter, 2/3 cup sugar and vanilla extract until light and fluffy. Add the eggs one at a time, scraping down the bowl after each addition.
3) In separate bowl, sift flour, baking powder and salt. Add to batter, alternating with buttermilk in 2 or 3 additions.
4) Divide batter evenly into the pans. Bake for 20 - 25 minutes until done. Allow to cool in pans for 10 minutes, then invert onto wire racks. Carefully peel off the paper and allow to cool completely.
5) In a large chilled bowl, whip the cream (you may add 1 Tbsp sugar if you like your cream to be slightly sweetened) until stiff.
To Assemble:
1) Place one cake layer, flat side up on serving plate. Top with 3/4 cup of fresh strawberry filling, spooning it over the entire layer and making sure any juices go onto the cake layer and not the plate. (I didn't spoon enough juices so the cake layers were slightly dry mid way)
2) Top this with 1 cup of the whipped cream, spreading evenly over the berries. Repeat with 2nd cake layer and another 3/4 cup filling and 1 cup whipped cream.
3) Top with the final cake layer, flat side up. Cover with the last of the whipped cream and garnish with whole berries.
4) For best flavours, cover the dessert with a cake dome or loose plastic wrap, refrigerate for about 2 hours before slicing/serving.
Fresh Strawberry Filling:
Clean and hull 2 pints of strawberries (small if possible) and slice into pieces about the thickness of a nickel. Place in a bowl. Add 2 tsp rosewater and 1/2 cup sugar. Stir to coat, cover and let berries macerate at room temperature for about 1 hour.