Having too much seafood is not good for your cholesterol level! That's what we always read in any health magazines. Well I say having it once in a while should be fine. The thing about having seafood is that you really, really must buy the freshest. Any seafood that isn't, be it fish, prawns or crabs, will end up totally destroying your entire dish.
So before you go out to buy your next batch of prawns, you should be looking out for:
* The shell of the prawns should be firm and glossy and not broken or slippery
* There should be no discolouration of the heads or the shells, as this is an indication that the meat is starting to go bad
* They should smell fresh and salty. Avoid if there is any hint of a smell of ammonia
* The eyes should be prominent and shiny and not shrunken inwards or missing
* If you are buying raw prawns, do not be put off if they are translucent or a different colour then the typical pink prawn. Prawns and shrimp only turn this colour once they have been cooked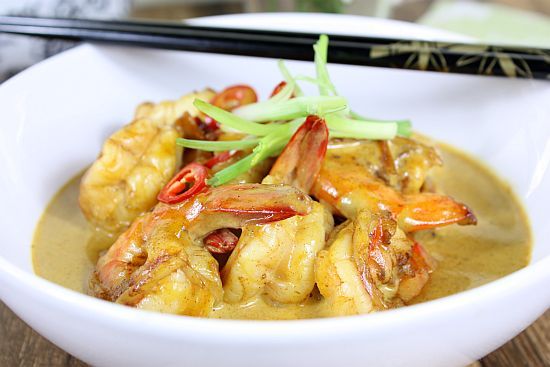 Creamy Curry Prawns

Recipe Adapted from "Women's Weekly - July 2010" Edition
Serves 4
Ingredients:
1 Tbsp vegetable oil
30g unsalted butter
2 cloves garlic, crushed and roughly chopped
1 red chilli, sliced
1 1/2 tsp seafood curry powder
500g medium sized prawns, shelled with tail intact and deveined
2 stalks spring onions, sliced (extra for garnishing)
300ml thickened cream
Salt to taste
Method:
1) Heat oil and butter together in a large fyring pan over high fire. When the butter starts to bubble, turn fire to medium.
2) Add in the garlic and chilli and fry for 2 minutes.
3) Stir in the curry powder and cook for 30 seconds, stirring. Add prawns and spring onion and cook for 3 mins until prawns change colour.
4) Pour in the cream and bring to a boil. Reduce fire and cook for 1 - 2 mins, until sauce has thickened and prawns are cooked through. Season to taste with salt.
4) Serve immediately with a bowl of steaming white rice.