When it comes to left-over white rice, it is astonishing what type of ingredients you could add to it to turn this into a simple fried rice dish. I would usually cook a Chinese fried rice version using Chinese sausages, frozen mixed vegetables and eggs. However this time round I wanted to do something different and be a bit more adventurous.
I decided on a Thai version using fresh basil as one of the key ingredients. So when I happened to be at my local supermarket buying groceries, I came across fresh white clams. I thought to myself "heh, how about some clams to go with the Thai fried rice! I could add some long beans as well." I must confess that I had concocting this recipe as I was walking through the aisle in the supermarket. So with this in mind, I started to throw packs of ingredients into my shopping basket. If you are not into clams, you can use prawns or even chicken meat as substitute. And again if long beans are not your "thing" substitute with frozen mixed vegetables, peas, carrots, corn … or just do your own thing! The dish will still come out delicious.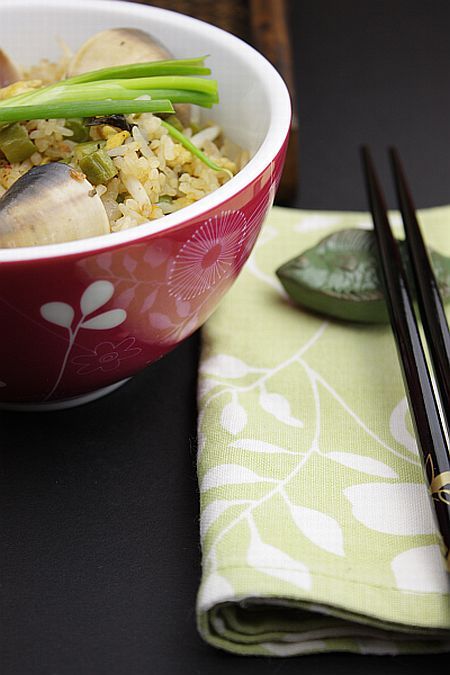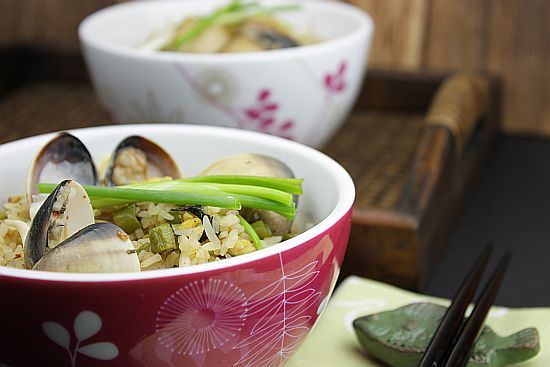 Thai Fried Rice with Clams and Holy Basil
Serves 2
Ingredients:
2 Tbsp vegetable oil
3 cloves garlic, roughly minced
1 ½ Tbsp of Thai chillie paste (found in local Asian groceries. Vary the chilli paste according to your taste)
2 cups heaped cold cooked rice
200g - 250g white clams, shell intact and thoroughly cleaned
1 ½ Tbsp fish sauce, or more to taste
¾ cup of long beans, chopped to ¼" thick
1/2 cup loosely packed Thai holy basil (regular basil ok)
2 medium sized eggs, lightly beaten
Dash of white pepper
1 Tbsp chopped fresh cilantro and extra sprigs for decoration
Method:
1) In a wok or large skillet over medium fire, heat up the oil. Add the garlic and fry until lightly browned
2) Then add in the chilli paste and stir fry for about a minute. Add in the clams and basil leaves, and fry for about 2 minutes. Add the long beans and fry until slightly soften (not too soft). Add the cold rice and fry for about 3 to 4 minutes.
3) Add fish sauce and pepper. Then drizzle the beaten egg onto the rice and stir to mix well. Fry for another 1 to 2 minutes.
4) Finally add in the chopped fresh cilantro. Dish out warm and serve with lime wedges, Thai chillie sauce and cilantro for decoration.