The name of this dish is Chinese Carrot Cake. However contrary to its name, "carrot cake", this particular dish does not contain any carrots at all and is not a cake in the usual sense of the word. The "carrot" in this recipe is actually white radish or "lobak" in Chinese. It is a savoury dish rather than a sweet and you can usually find this in most dim sum eateries. It is also sold in hawker stalls in Singapore and Malaysia. I love this dish a lot and to me the ideal Chinese Carrot Cake should have lots of ingredients, be moist and soft and served with a delicious sauce.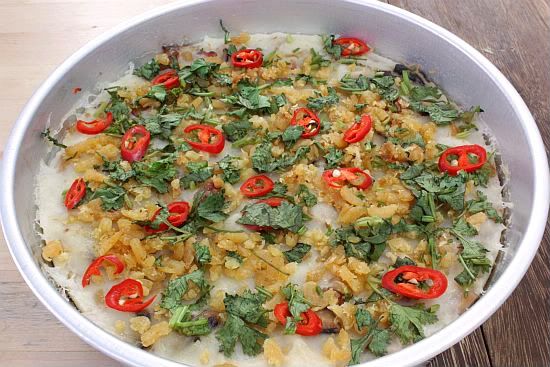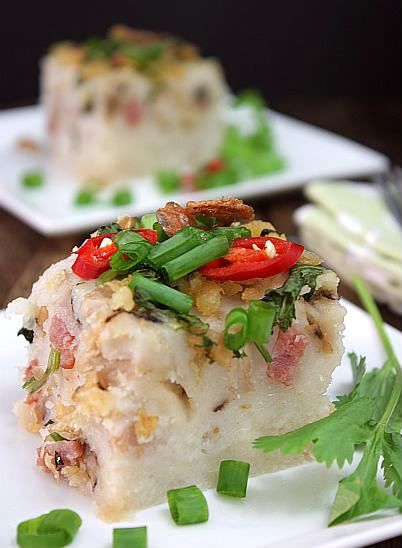 Chinese Carrot Cake

Recipe adapted from "Our Favourite Recipes"
Ingredients:
1 kg white radish (white lobak), shredded finely
300g yambean (bangkuang), shredded finely
350g rice flour
3 Tbsp cornflour
3 1/3 cup water
40g Chinese dried mushroom, soaked for 15 minutes, steams removed and sliced finely
60g dried prawns, roughly chopped
90g Chinese sausage (lap cheung) diced
60g lean pork, boiled and diced
Vegetable oil
For Garnishing
:
4 shallots, sliced adn fried until golden brown
1 sprig coriander leaves, chopped finely
2 chillies, chopped finely
Method:
1) Heat 2 Tbsp oil in wok until hot. Fry mushroom, dried prawns, sausage and pork until fragrant, about 6 minutes. Add salt to taste, remove and set aside.
2) Then add the shredded radish and yambean into the wok and fry, stirring continously, till dry.
3) Add the ingredients from (1) to radish and yambean mixture. Mix well and set aside.
4) In a large mixing bowl, mix rice flour and cornflour. Gradually add water to the mixture and stir well to form a paste.
5) Add all the fried ingredients from (3) to the paste.
6) Oil a round 10" tin. Pour mixture into the tin and steam for 1 hour. Test with skewer. When ready, the skewer should come out clean.
7) Sprinkle crispy shallots. chopped chillies and coriander leaves on top of the cake. Garnish immediately whilst still hot to allow the garnishing to stick to the cake.
8) Allow cake to cool slightly before cutting into slices or cubes. Serve warm with either chilli sauce or a sweet sauce. The remaining cake can be wrapped and refrigerated. Cut out serving portions as required and steam before eating.