Thai cuisine has such an interesting array of dishes as well as flavours. Their dishes incorporates the four vital flavours which is spicy, salty, sweet and sour. The basic ingredients used to achieve the four flavours are:
Spicy - chillies, peppers, fresh and dried spices, shallots, garlic
Salty - fish sauce, soy sauce, dried shrimps, shrimp paste, salt
Sweet - coconut milk, palm sugar, fruit
Sour - lime juice, tamarind, vinegar, vegetables
The ideal Thai meal is a harmonious blend of all the four flavours above. The dishes are meant to be equally satisfying to eye, nose and palate. A typical meal might include a clear soup, a steamed dish, a fried dish, a hot salad and a variety of sauces into which food is dipped. The meal is then rounded off with sweet desserts or fresh fruits.
This particular tom yam dish which I have posted is probably the lesser known of the two. It is much lighter and less spicy and uses coconut milk. You would find this recipe using chicken instead of prawns. Preparation wise this dish is easy and takes no time at all to put together. End result is a really delicious soup.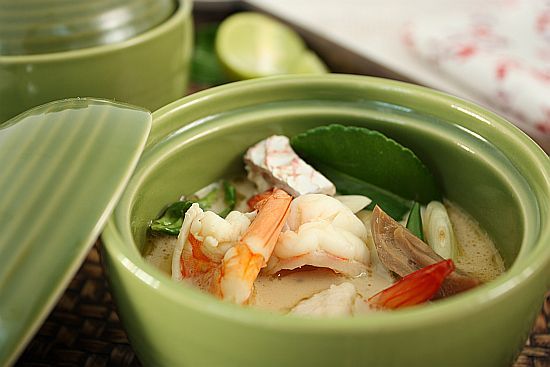 Tom Kha Goong(Thai Coconut Prawn Soup)

Serves 4
Ingredients:
500ml chicken stock (fresh or canned, unsalted)
4 kaffir lime leaves, torn in half
1 lemon grass, crushed (white part only)
1 lemon grass, sliced diagonally 1" (white part only)
12 thin slices of galangal
200g fresh prawns, shelled leaving tail intact, deveined and slit along the top mid-way
100g red snapper fillet, sliced to 1" thick
500ml coconut milk (fresh or canned)
60g canned mushrooms
4 Tbsp fresh lime juice
4 Tbsp fish sauce (to taste)
8 pieces of bird's eye chilli (chilli padi), 2 lightly crushed, the remaining leave whole
Method:
1) Heat the chicken stock in a pot. Add in the lemon grass, lime leaves and galangal and simmer for about 10 minutes,
2) Then add in the coconut milk, chillie and seafood and bring to a boil.
3) Add the mushrooms, lime juice and fish sauce to the pot. Cook the soup on medium heat, uncovered for another 5 minutes.
4) Remove from stove and dish out into individual bowls. Serve immediately.