I'm not much into risotto but as I had some short grain rice which I didn't want to waste, I decided to cook up a small serving of it. This simple recipe cannot be any simplier. All you need is just time!
Risotto is actually an Italian dish that takes a longer time than cooking normal rice. When it is done well, this dish has a rich, creamy texture, with each individual grain of rice standing out clearly and having a hint of a bite, rather than being soft or mushy. Nowadays risotto also comes in pre-packed boxes and you can find this in most good grocers. All you need to do is just add water. But with most instant meals, the essence of preparing it and having fresh flavours is totally gone altogether.
Making risotto may sound like a complicated process to a newcomer. I personally don't think it is. It starts with frying rice with the ingredients until everything is well coated. The white wine is added and the mixture is continually stirred until the wine has evaporated. Next, broth is added in small amounts at a time, whilst continuously stirring the rice. The entire cooking time can take between 20 to 30 minutes depending on the quantity of rice being cooked.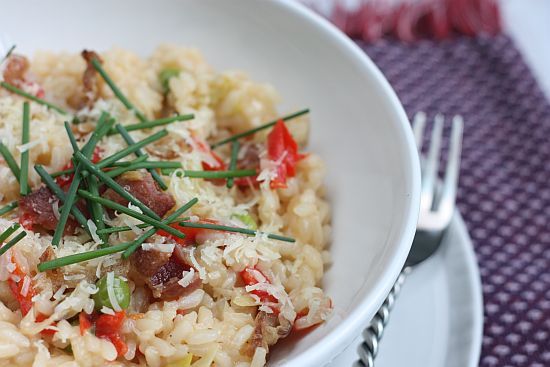 Leek, Pepper and Bacon Risotto
Serves 4
Recipe Adapted from "Good Food" Magazine
Ingredients
:
1.5 litres of canned unsalted chicken stock or home-made stock
1 Tbsp olive oil
6 streaky smoked bacon rashers, cut into pieces
300g arborio rice (or short grained risotto rice)
125ml white wine
1 small red pepper, cut into thin strips
1/3 cup of frozen green peas
4 large leeks, sliced diagonally (about 1/2" thick)
50g grated parmesan
1 bunch of chives, chopped
Salt and black pepper to taste
Method
:
1) Heat up your stock and keep it warm.
2) Heat the oil in a large pan and fry the bacon until crisp. Remove and set aside.
3) Turn the flame to medium. Stir in the leeks, frozen peas and red pepper in the pan and cook for about 5 minutes. Add the rice and cook for 2 minutes. Pour in all of the wine and keep stirring until all the wine has been absorbed.
4) Then add the chicken stock into the rice, one large ladle at a time. Stir and wait until all the stock has been absorbed before adding another ladle. Continue to do this for about 25 minutes until the rick is just cooked and the risotto resembles a creamy consistency.
5) Season with salt and black pepper to taste. Then stir in the bacon, parmesan and chives, saving some of each for garnishing. Serve immediately.