This fondant cake design comes from my limited collection of children's fondant books, one of which is by Debbie Brown's "50 Easy Party Cakes". I have not done fondant cakes for a long while now and decided that I had better get at it before I loose my touch. It also gave me a chance to use my bowl shape cake pan which I had bought more than a year ago. I guess I'm the type who buys things and uses only half of them.
I wasn't sure what type of cake to make as its base but something simple would do most nicely. I had struggled between a chocolate cake or a marble cake and finally decided on trying out a new recipe which was a molasses marble cake. It's pretty close to a marble cake except it uses molasses and has the hint of spices, like a Christmas fruit cake. I must say that it is a really, really delicious cake and moist as well, especially since it's a pound cake. Definitely a recipe to used again in the future! As I could not cut the cake to show a cross section of it, I decided to take a picture of it directly from "Southern Cakes" book.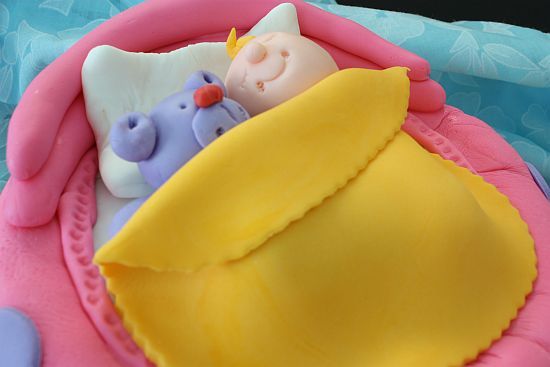 Marble Molasses Pound Cake
Recipe Adapted from "Southern Cakes"
Ingredients:
2 cups shifted plain flour
2 tsp baking powder
1/4 tsp salt
113g unsalted butter, softened
2/3 cup sugar (reduced from original recipe)
2 eggs
2/3 low fat milk (you can use regular milk)
3 Tbsp molasses or pure cane syrup
1 tsp ground cinnamon
1/2 tsp ground nutmeg
1/2 tsp ground cloves
Method
:
1) Preheat oven to 180C. Grease a 9" by 5" loaf pan and line the bottom with parchment paper. The lightly flour the pan, shaking off the excess.
2) Combine flour, baking powder and salt into a flour. Use a whisk or fork to mix well.
3) in a large bowl, beat butter on high until light and fluffy. Add sugar and beat for a minute. Then add both eggs into the mixture and continue beating for another 1 or 2 minutes. In-between scrap down the bowl.
4) Add about a 1/3 of flour mixture and beat on low. Stop mixer and add in half the milk and beat to mix. Alternate with the rest of the flour and milk.
5) Scoop out 1/3 of the cake batter into a clean bowl and add in the molasses and spices. Stir to mix well.
6) Spoon each batter into the pan, alternating between the plain and spiced batters. Run a table knife through the batter in a figure eight pattern to swirl the batters together.
7) Bake for about an hour, until the cake is golden brown and springs back when touched lightly in the center, and until an inserted skewer comes out clean. Cool for about 10 minutes in its pan before unmoulding. To loosen cake from pan, run a table knife along the sides. Cool completely, top side up before serving.