I love making tarts because I can split the process into two stages, which is what I usually do. I would make the tart shell mid week after work and throw the unbaked shell into my freezer. I would sometimes even forget that I even had the shell in the freezer. Those are the days when weekend becomes a real treat. I usually try to work with smaller shells as it is so much easier to put together and I often cut the recipes into half. In that way I could whip up a variety of tart flavours from one batch of dough.
I have tried a variety of doughs but I often tend to stick to two particular recipes which I find is most suited for sweet tarts and savoury tarts. This particular Pate Brisee recipe is one of them, absolutely flaky and buttery, and most suited for all sorts of savoury tarts.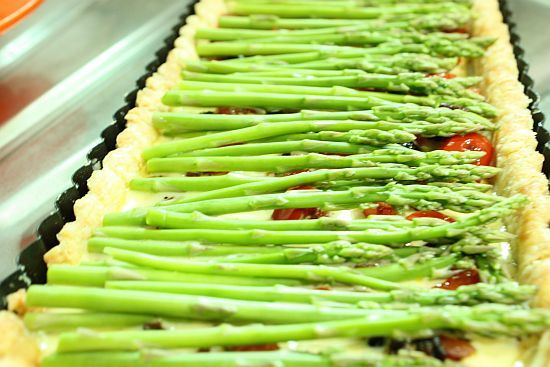 Asparagus and Sundried Tomato Tart
Recipe adapted from "Savory & Sweet" by Michel Roux
Ingredients:
350g
Pate Brisee
48 medium asparagus spears
Salt and Fresh ground pepper
5 sundried tomato, thinly sliced
1 medium egg
2 medium egg yolks
200ml heavy cream
Pinch of freshly grated nutmeg
1/4 tsp mixed dried herbs
Method:
1) Roll out the dough to 1/4" thickness and line a loose bottom rectangular tart pan measuring 14" x 4.5" x 1" deep. Chill for about 30 minutes.
2) Preheat oven to 190C. Prink the base of the tart shell and bake blind for about 20 minutes. Lower oven setting to 170C. Remove the beans and paper and return the tart to the oven for 10 minutes. Remove from oven and set aside.
3) Cook the asparagus in boiling salt water until just tender. Drain and refresh in cold water, and pat dry. Trim the asparagus to the width of the pan.
4) Slice the sundried tomatoes, do not use the oil. Line the tomatoes on the bottom of tart shell.
5) Mix the whole egg, egg yolks and cream together in a bowl with a whisk. Add in the mixed herb, nutmeg and season with salt and pepper. Pour two thirds of the egg mixture in the tart pan.
6) Lay the asparagus over the sundried tomatoes. Carefully spoon the remaining egg mixture over the asparagus. Immediately bake the tart for 30 minutes. Slide the tart onto a wire rack and leave to cool for 20 minutes before unmoulding.