I absolutely love, love cinnamon rolls! I remember the first cinnamon store that opened in Singapore about 18 or so years ago and there were long queques lining up the store front just to grab the rolls. I believe the store's name was Saint Cinnamon and it was located at Wisma Atria. As I am a born sucker for cinnamon rolls (and still am), I too joined the long queques. I would usually take away about 3 to 4 rolls to munch on during tea break or breakfast. Gosh the smell of freshly baking cinnamon rolls could entice any hungry soul that's for sure.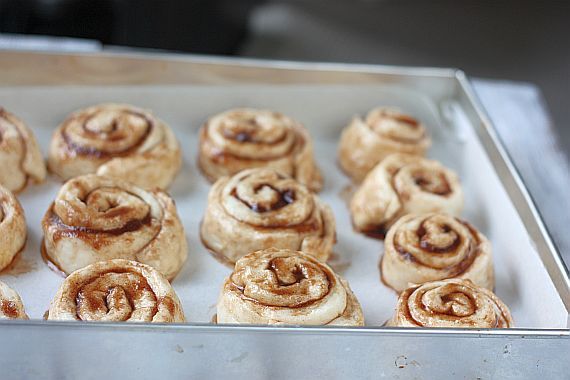 You could say that I have tried a few Cinnamon Roll recipes in my brief baking history. You will find one such posted recipe in this blog as well from my early blogging days.
However I can swear that this particular recipe from The Pioneer Woman beats everything else hands-down. I love this recipe! So much so that this is my fourth time making these rolls. This is definitely a recipe for "keeps" in my book.
Cinnamon Rolls
Makes 15 rolls
Recipe Adapted from "The Pioneer Woman Cooks"
Ingredients for the Dough:
1 1/3 cup milk (I used low-fat milk)
1/3 cup vegetable oil (do not use olive oil)
1/3 cup caster sugar
1 1/2 tsp dry yeast
2 2/3 cups plain flour (plus additional 1/3 cup)
1/2 tsp baking powder
1/3 tsp baking soda
1 tsp salt
Ingredients for Sprinkling
:
100g unsalted butter - melted
1/2 cup brown sugar + 2 Tbsp extra
3 1/2 Tbsp cinnamon powder
1/2 tsp nutmeg powder
1/2 tsp cloves powder
1/2 tsp mixed spice
Method:
1) Mix the milk, vegetable oil and sugar in a pan.
2) Scald the mixture (heat until just before the boiling point). Turn off heat and leave to cool for about 30 mins.
3) When the mixture is lukewarm to warm, but NOT hot, sprinkle in dry yeast. Let this sit for a minute.
4) Add 2 2/3 cups of flour into the milk mixture. Stir mixture together with a wooden spoon. Cover and let rise for at least an hour. The dough will still be very sticky to touch (but some of the gluten would have developed by then)
5) Add in 1/3 cup of flour, baking powder, baking soda and salt. Stir mixture together. (At this point the dough will still be sticky, you could cover the dough and put it in the fridge for about 30 minutes to firm slightly so that it'll be easier to handle. Alternatively you can leave it overnight or even a day or two in the fridge. This will give you a firmer dough. Just keep your eye on it and if it starts to overflow out of the pan, just punch it down).
6) When ready to prepare rolls, mix the sugar, cinnamon, nutmeg, mixed spice and clove in a bowl. Stir well to mix everything together.
7) Then sprinkle rolling surface generously with flour. Form a rough rectangle with the dough. Then roll the dough thin, maintaining a general rectangular shape about the size of a jelly pan. Drizzle melted butter over the dough. Next sprinkle the sugar mixture over the butter. (I find that in humid weather, it is easier to dot the dough with soften butter cubes rather than melted butter to prevent the butter from oozing out as you start to roll the dough)
8) Now starting at the opposite end, begin rolling the dough in a neat line toward you. Keep the roll relatively tight as you go. Next, pinch the seam of the roll to seal it.
9) Cut the roll to approximately 1 inch thick and lay them in a greased baking tray. Leave a little space in between the rolls for them to rise.
Let the rolls rise for 30 - 40 mins. Then bake at a 180℃ pre-heated oven until light golden brown, about 20-25 mins. Serve warm.