I am extremely excited to say that
The Cake Slice Bakers
is baking from a new book starting this month. The chosen book for the next twelve months is
The Cake Book by Tish Boyle
. I am sure some of you have heard of her before and if you have not you may want to check out
her website
. She is an amazing baker and has written a few books covering both cakes and cookies.
Each month a few recipes will be posted for voting and the most number of votes received for any cake recipe will be the choice bake for that month. To kick start our first cake from "The Cake Book" is a delicious Apple Cake which is full of apple chunks and walnuts. For some of you who are now experiencing fall, this recipe is so in tune with the season. When I was baking this cake my entire kitchen was filled with the smell of cinnamon and spices. It is such a delicious feeling and I could not wait to get the cake out of the oven to try a piece of it. I used a square cake pan to bake the cake and then used 3" cutter rings to cut out individual servings. These were frosting and then decorated with a sugarpaste rose on each small cake. Just wanted to give this cake an extra special touch!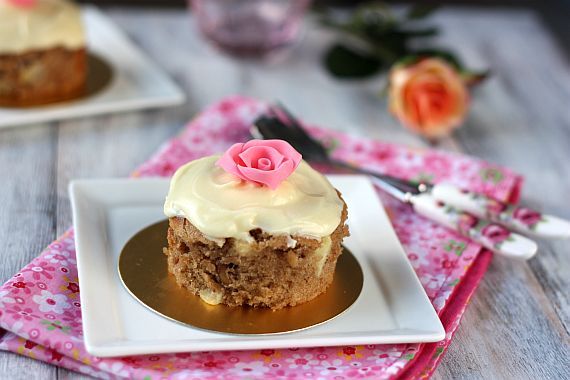 Apple Cake with Cream Cheese Maple Frosting
Recipe Adapted from "The Cake Book by Tish Boyle"
Makes One 9" Cake Serving 12
Ingredients for the Cake:
1 1/2 cups all purpose flour, sifted
1 tsp baking powder
1 tsp ground cinnamon
1/4 tsp ground cloves
1/4 tsp nutmeg
1/2 tsp ground ginger
1/4 tsp baking soda
1/4 tsp salt
113g unsalted butter, softened
1 cup loosely packed light brown sugar
1 tsp vanilla extract
2 large eggs
2/3 cup buttermilk
2 cups peeled and chopped (1/2" pieces) Granny Smith apples (about 2 apples)
1/2 cup coarsely chopped walnuts
Method for the Cake:
1) Preheat oven to 350F and position rack in center of the oven. Grease the bottom and sides of a 9" square cake pan with parchment paper.
2) In a bowl add flour, baking powder, cinnamon, cloves, nutmeg, ginger, baking soda and salt. Whisk together and set aside.
3) In another bowl, beat butter and brown sugar until light and creamy for about 3 - 4 minutes. Add vanilla extract and beat until combined. Then add the eggs one at a time, beating well after each addition. Scrap down the sides of the bowl.
4) Then add in the flour in 3 separate additions alternating with buttermilk in 2 additions. Mix until blended (do not overmix though).
5) Finally add in the apples and walnuts. Pour into prepared tin and bake for 25 to 30 minutes until golden and a skewer comes out clean when inserted into the cake.
6) Cool cake completely before adding the frosting.
Maple Cheese Maple Frosting
170g cream cheese, softened
42g unsalted butter, softened
1/2 tsp vanilla extract
1/2 tsp maple syrup
1 cup icing sugar sifted
Pinch of salt
Method:
Beat cream cheese and butter until smooth. Add in the other ingredients and continue to beat until light and creamy. Place in fridge for about 30 minutes to harden slightly before frosting on the cake.