I have always loved making swiss rolls as they are so light and fluffy. Plus the fact that it is so easy to put one together as well. Baking time is certainly shorter than that of a normal cake and I bet you that you will have more than a slice.
Actually for this particular recipe you need not confine yourself to making swiss or jelly rolls only. I have actually used the same recipe to put together a Strawberry Sponge Shortcake and also adapted it for a Blackforest Cake. I would usually make a swiss roll if I was craving for desserts and am not too much in a mood to make something more elaborate.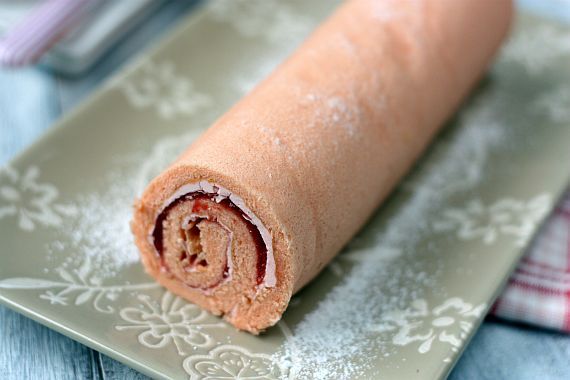 Strawberry Swiss Roll
Recipe Adapted from "Judy Koh of Creative Culinaire"
Ingredients for the Cake Roll:
110g cake flour
1 tsp baking powder
1/4 tsp baking soda
50g caster sugar
1/4 tsp salt
60g vegetable oil (like corn oil or canola oil)
75g liquid (50g of strawberry puree + 25g of water at room temperature)
5 eggs (60g per egg), separate the yolks from the whites
1/4 tsp cream of tartar
70g caster sugar
1/2 tsp strawberry emulco or flavouring (optional)
Method:
1) Grease a full size jelly pan and line with parchment paper. Preheat your oven to 200C.
2) Sift together cake flour, baking powder, salt and baking soda into a clean bowl and set aside.
3) In another bowl, whisk by hand the egg yolks, 50g sugar, oil, strawberry puree and strawberry emulco until the mixture is light in colour and slightly thicken. This should take about 1 minute. (You can add a drop of food colouring to the liquid at this point of time if you want your roll to have a darker pink colour)
4) Add the flour mixture to the egg and whisk until smooth. Set aside.
5) In a clean bowl whip the egg whites until slightly frothy. Then add in the cream of tartar and continue to whip for about 1 minute. Then add the remaining 70g sugar and continue to whip until stiff peaks.
6) Fold 1/3 of the egg meringue into the yolk mixture. Fold gently until mixed well. Then add in the remaining 2/3 meringue and continue to fold gently using either a whisk or spatula. Fold only until the white streaks have disappeared. Do not overfold or you may deflate the batter.
7) Pour into the lined jelly pan and smoothen the top to ensure an even surface. Bake for 10 - 15 minutes or until the top is golden brown. Check at 10 minutes baking time - do not over bake or your roll will become hard.
8) Remove from oven and let cool for about 15 minutes before removing parchment paper. The roll should be completely cool before adding the whipped cream.
To Assemble:
1) Trim off the sides of the roll to have clean lines. Place the roll on top of a clean sheet of parchment paper. Place one side of the long end of the roll at the edge of the parchment. This will allow you to roll the jelly roll easily.
2) Spread the roll with some whipped cream mixed with strawberry jam. Leave a border around the edge.
3) Using the end of the parchment paper, start to roll away from you. Keep the roll tight as you continue to roll. Once you have finished use the parchment to wrap the entire jelly roll and place it into the refrigerator to set for about 3 hours.
4) To serve dust the roll with some icing sugar.