I must confess that I am really a simple person at heart. Simple, home-cooked meals brings such pleasure as it brings back childhood memories. Fried rice and fried rice noodles were staple weekend meals when I was growing up in Malaysia. My siblings and I would look forward to such weekends whenever we knew our mum was going to prepare this. Even though the ingredients used in the dish were simple, I guess to us kids at that time it was as good as eating abalone or lobster. I would usually eat more than a plateful. In fact I think everyone else had more than one serving as well! Even now cooking these two dishes bring back such memories and also that they happened to be my dear LT's favourite meals as well.
I decided to make fried rice this particular weekend. It wasn't because I wanted to evoke childhood memories but simply because I didn't know what to cook. I deviated from the usual chinese fried rice style of cooking and made a spicy flavoured one instead. I must say that it turned out pretty well. Now who says that you can't "cook on the fly" and come up with a tasty meal.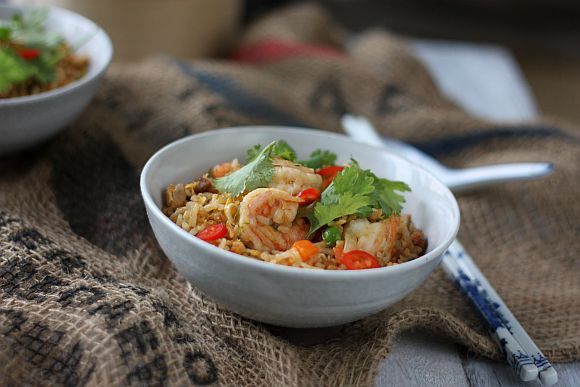 Before I jump into the recipe I had a nice surprise this week - in fact two nice surprises to be exact. I received 2 blog awards. It is really nice to receive such awards as it means that my blogging efforts are being recognized by other bloggers. To this I would like to thank Edith of
Precious Moments
and Vivian of
Vivian Pang Kitchen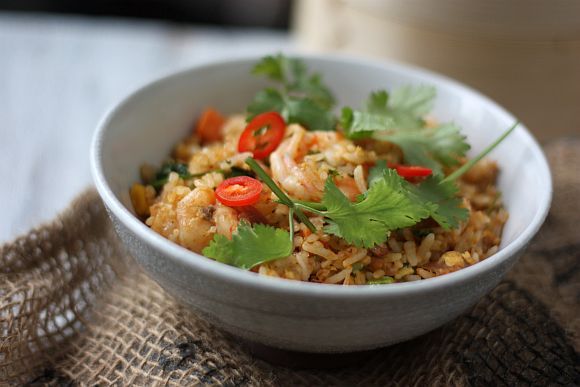 Laksa Fried Rice With Shrimps
Serves 4
Ingredients
:
2 Tbsp vegetable oil
3 - 4 Tbsp laksa paste (recipe below)
300g medium prawns, shelled and deveined
1 small onion, finely chopped
300g (2 cups) frozen mixed vegetables, thawed
3 eggs, lightly whisked
600g (4 cups) pre-cooked long-grain white rice, cold from the fridge
white rice, cooled (see tip)
Salt, light soy sauce and white pepper for seasoning
For Garnishing:
Small bunch of coriander, roughly chopped
Sliced fresh chillies
Method:
1) Heat the oil in a large wok or deep frying pan over high heat. Saute the onions for about a minutes. Then add the laksa paste and fry until fragrant.
2) Add the prawns and mixed vegetables, and stir-fry for 1 minute.
3) Reduce heat to medium-high and add in the cold rice. Cook for about 3 minutes. Then pour in the beaten egg and stir into the rice. Cook for another 3 - 4 minutes, until the rice dries out. Season with salt, soy and pepper to taste.
4) Divide the rice amongst serving bowls. Garnish with chopped coriander and sliced chilles and and serve immediately.
Tip 1: For best results, cook the rice the day before (this allows time for the rice to dry slightly so the grains will be less sticky). Keep in an airtight container in the fridge.
Tip 2: Instead of making the laksa paste from scratch, you can buy pre-made paste from Asian grocery shops.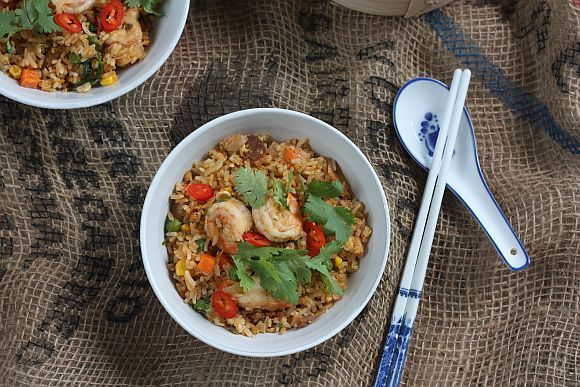 Laksa Spice Paste

Ingredients:
3 small shallots
2 cloves garlic
1 Tbsp crushed blanched candle nuts (or blanched plain almonds)
2 Tbsp soaked dried shrimp
2 fresh lemongrass. white part only, finely chopped
2 Tbsp chopped fresh galangal
1 tsp shrimp paste
3 fresh chillies, seeds removed and sliced
1 tsp chopped fresh tumeric
2 tsp ground coriander
3 lime leaves (center vein removed) and finely sliced. You can substitute with 1 tsp lime zest
Method:
Place all the above ingredients into a food processor or blender. Add a little bit of water and grind until smooth.