Of late I think I have been really slacking in updating this blog. From my usual two posts a week it has now gone down to about one. It's not that I don't have recipes to post up but the initial eagerness I had felt when I first started this blog seems to be waning off. Maybe I am going through a "slight depression spell" and need to take a huge step and push myself out from this valley. But whatever it is I have to work this out myself. But rest assured, I definitely will continue blogging for now. In any case I wish you guys a great weekend and leave you with this absolutely delicious cookie recipe.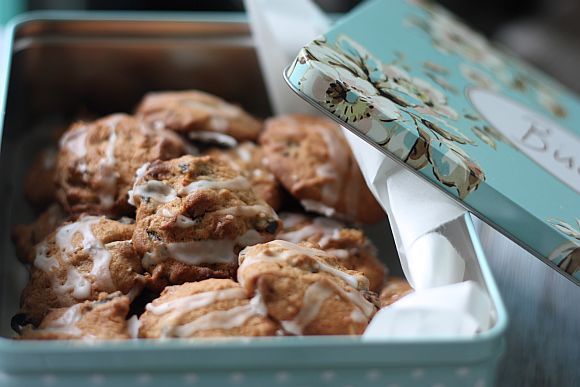 Prune, Cinnamon and Toasted Walnut Cookies with Cinnamon Icing
Recipe Adapted from "Weekend Baking" by Delia Smith
Makes about 20 cookies
Ingredients
:
75g toasted walnuts, roughly chopped
100g unsalted butter, softened
120g brown sugar (you can use white as well)
1 large egg, lightly beaten
2 Tbsp plain cream cheese
150g all purpose flour, sifted
1 1/2 tsp ground cinnamon
1/4 tsp ground nutmeg
1/4 tsp all spice
1/4 tsp salt
125g pitted dried prunes, chopped into small pieces
Method
:
1) Preheat oven to 180C
2) Beat butter and sugar until soft and fluffy. Add in the egg and cream cheese and beat until well mixed.
3) Add in half the flour and spices and mix into the batter. Add in the remaining and mix until combined. Then fold in the walnuts and prunes.
4) Line a baking tray with parchment paper. Drop 1 heaped teaspoon onto the tray laving space between each cookie as it will expand.
5) Bake for about 10 - 12 minutes. The cookies will be soft but will harden slightly when cool. Note that these cookies are not crunchy in texture.
Cinnamon Icing:
50g icing sugar
1/2 tsp ground cinnamon
1 - 2 tsp cold water
Mix the above together until it is of drizzling consistency. Drizzle over each cookie and let the icing set.