Do you occassionally stop yourself from buying cakes from bakeries simply because you could probably make it yourself? Furthermore it may even taste better as you know what ingredients goes into it. You are also likely not to compromise on using better quality ingredients. I think it is probably something that all of us bakers go through.
My pantry is always stocked full of baking ingredients and I really don't need to go to the local stores to buy anything if I fancy to do some last minute baking over the weekend. So these blackberry cupcakes were put together on a spur of a moment. The blackberries and limes were already in my refrigerator before I even thought of making these cupcakes. These freeze well for about a month but you probably won't have any left overs as they are really yummy - soft and moist.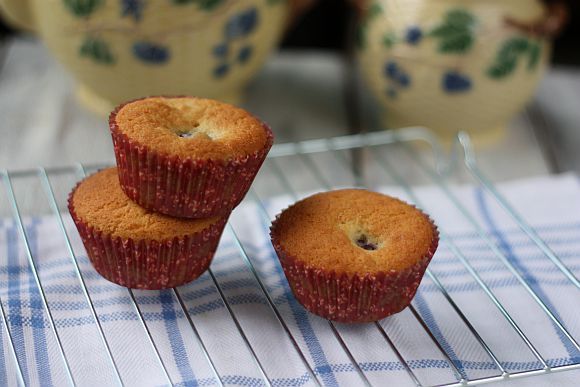 Glazed Blackberry-Lime Cupcakes
Recipe Adapted from "500 cupcakes & Muffins by Fergal Connolly"
Makes 1 1/2 dozen
Ingredients:
115g unsalted butter, softened
170g caster sugar(reduced from original recipe)
2 lightly beaten eggs
1 tsp vanilla extract
115ml low fat milk
225g self-raising flour
1 tsp baking power
115g fresh blackberries (or blueberries)
1 tsp grated lime zest
For the Glaze: (optional)
100g caster sugar
2 Tbsp lime zest
3 Tbsp lime juice
2 Tbsp boiling water
Method:
1) Preheat oven to 175C. Place 18 paper lines in a muffin tray.
2) Beat butter and sugar until soft and fluffly. Add the eggs slowly and mix well. Add in the vanilla extract and zest and beat to incorporate.
3) Sift the flour and baking powder. Add in 3 additions alternating with milk. Beat until just combine - do not overbeat.
4) Dust the blackberries with 1 tsp of self raising flour and then fold gently into the batter.
5) Spoon into cupcake liners and bake in oven for about 18 - 20 minutes. Remove and leave to cool completely before adding the glaze. Alternatively just dust each cupcake with icing sugar to serve.
Method for the Glaze:
Mix the sugar, zest, lime juice and boiling water in a small saucepan. Bring to a boil until sugar has completely dissolved. Simmer for 5 minutes. Remove from heat, cool slightly and then spoon over each cupcakes.