My office colleague would bring passionfruit for me once in a while when she visits her hometown in Malaysia. So about three weeks ago, she brought back about half a dozen and I promised her that I would make a dessert from the pulp and bring it to the office.
The idea of using the pulp in a dessert tart sounded really good and this particular recipe from Matt Moran really got me going. However I did change the filing somewhat by adding lime juice and zest to it. The flavours were amazing, passionfruit with an added tang coming through from the lime. The pastry crust was nice as well, not the flaky version but somewhat resembling that of a buttery shortbread cookie.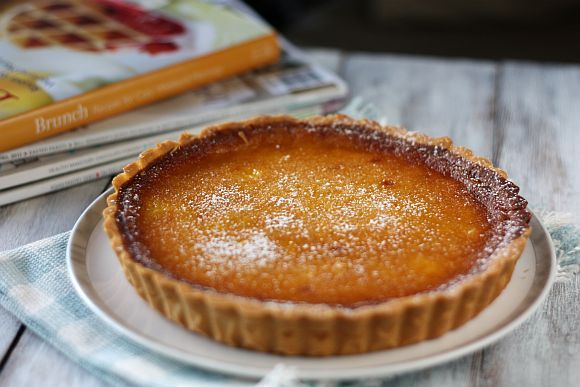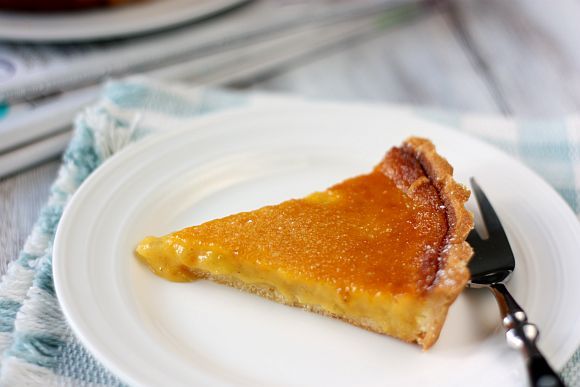 Passionfruit Lime Tart
Adapted from "Matt Moran (Lantern)" by Matt Moran
Sweet Tart Pastry

Ingredients:
225g unsalted butter, cold
100g icing sugar
375g plain flour (2 1/2 cups)
1 egg, lightly beaten
1 egg yolk, lightly beaten
Passionfruit Lime Filing

Ingredients:
7 passion fruits, scoop out the pulp
Finely grated zest and juice of 1 lime
150g caster sugar
5 egg yolks
130ml double cream (thickened cream)
Icing sugar for dusting (optional)
Method:
1) Cut the butter into small cubes.
2) Place the flour and icing sugar into a food processor and blizt for 10 seconds.
3) Scatter the butter cubes around the flour in the processor and pulse the content until it resembles breadcrumbs.
3) Drizzle the beaten egg into the mixture until it comes together.
4) Remove the dough onto a clingwrap. Form the dough into a disc, flatten it slightly and wrap tightly. Place in the fridge for 20 to 30 minutes until slightly harden.
5) Remove from fridge and roll it until 1/4" thick. Line a 9" tart pan with a removable bottom. Prink the dough and then place the tart shell into the refrigerator for a couple of hours until harden.
6) Preheat oven to 180C. Line the tart with baking parchment and baking beans, then bake for 15 mins. Remove the parchment, bake for a further 5-10 mins until golden, then remove from the oven and reduce the temperature to 140C.
7) Whilst the tart shell is baking, place the passionfruit flesh into a food processor. Blend for about half a minute. Push the pulp through sieve and mix the juice with the lime zest and juice. Beat the sugar and yolks together until pale, then beat in the cream and fruit juice.
8) Once the tart shell has been partially pre-baked, remove from the oven.
Carefully pour the custard into the tart case, then bake for 40 mins at 140C, until set with a very slight wobble.
9) Remove the tart from the oven, then leave to cool completely. Dust with icing sugar prior to serving.