I like Bill Granger's recipes for its simplicity and ease in preparation. Most of his cook books are easy to follow and the ingredients are usually available in local stores. It does not have tonnes of intructions that runs into pages. This particular book which I have is pretty old. When I say simple instructions, it really has. It has one page with a picture of the dish and another page which has the entire recipe. The dishes come out delicious and looks as if it had taken a while for you to prepare.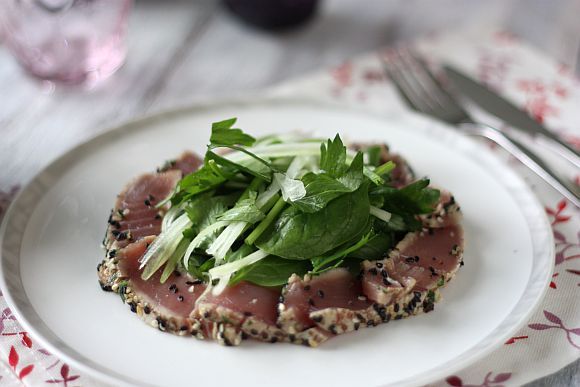 This particular seared tuna recipe makes a greater starter for an elegant dinner party or looks just as great on a buffet table. I love tuna and I could not resist to buy it today especially when it was on a discount! Just the right timing for me to put this recipe together.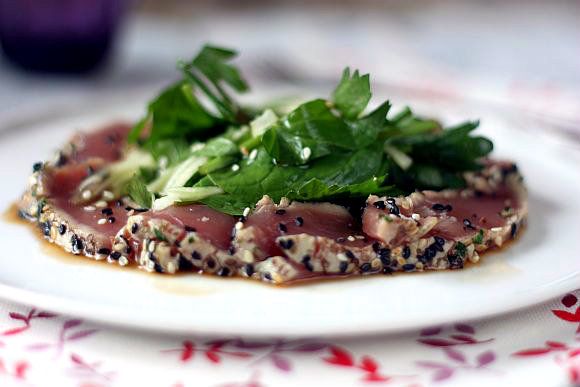 Seared Tuna with Soy-Mirin Dressing
Recipe Adapted from "Bill's Sydney Food" by Bill Granger
Ingredients:
2 Tbsp black peppercorns, ground
1 Tbsp sea salt
1/2 cup finely chopped coriander
1/4 cup olive oil 500g tuna, cut into large batons, about 2" square at ends
1 cup shredded cucumber
1/4 cup of baby spinach leaves
1/4 cup coriander leaves
3 Tbsp mix of black and white sesame seeds
1/2 cup soy-mirin dressing (recipe below) Olive oil for drizzling (optional)
Method:
1) Place pepper, salt, coriander and olive oil in a bowl. Stir to combine.
2) Place tuna on a plate and pour the herb mixture, pressing it on all sides of the tuna with your hands. Then coat it with the sesame seeds.
3) Heat a non-stick frying pan on high heat. Sear the tuna for 20 seconds on each side. Remove from pan and set aside to rest for an hour.
Soy-Mirin Dressing:
1/2 cup mirin
1/2 cup soy sauce
3 Tbsp rice wine vinegar
Place everything into a bowl and stir to mix. Refrigerate until ready to assemble the dish.
To Assemble:
Slice tuna into 5mm slices and arrange in a circle, overlapping slightly onto individual plates. Top with the cucumber, spinach and coriander leaves. Pour 3 Tbsp of the dressing over each plate and serve. Sprinkle with extra white toasted sesame seeds and drizzle with a bit of olive oil. Serve immediately.