I recently started a herb garden and I am glad to say that my plants are triving. So now whenever I am in need of fresh herbs for cooking, I just head towards my planters and snip whatever I need. I don't exactly have a garden as I stay in an apartment - so my herbs are actually grown in pots.
So it came about two weekends ago that I decided to make do a simple lemon (which I usually would have stock in my fridge) and thyme roast chicken. This is truly a simple recipe and absolutely delicious. It makes a great Sunday lunch or dinner for the whole family.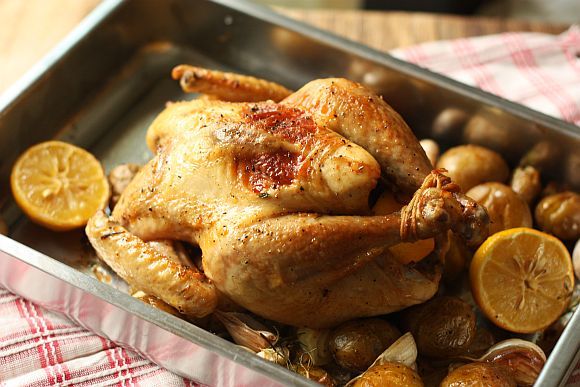 Lemon and Thyme Roast Chicken
Ingredients:
1 whole chicken (approx 2.25kg), cleaned and pat dry
1 head of garlic, broken into pieces (do not remove the skin)
2 lemons, cut into half
3 Tbsp lemon juice
2 onions, sliced into 1/8
4 sprigs of thyme
4 sprigs of rosemary
2 Tbsp olive oil
1 tsp sweet paprika
1 tsp onion powder
2 Tbsp salted butter
1.5 cups cooked baby potatoes, slightly smashed
Salt and black pepper to taste
Additional olive oil for drizzling
Method:
1) Place the lemon juice, olive oil, sweet paprika, onion powder, salt and pepper to taste. into a bowl. Mix the marinade until well combined. Rub all over the chicken and leave for about an hour.
2) Pre-heat the oven to 180°C
3) In a roasting pan, layer the potatoes on the bottom, cut onion and 2/3 of the garlic cloves. Add 3 pieces of the lemon halfs into the pan. Roughly pull the leaves off half the thyme and rosemary sprigs and strew them over the vegetables. Drizzle with olive oil, sprinkle salt and black pepper. Using your hands mix everything together and spread the mix out.
4) In the cavity of the chicken, stuff in half a lemon, the remaining garlic, the thyme and rosemary sprigs. Push the butter under the skin of the chicken.
5) Truss the legs with some string and tuck the wings under the chicken. Place chicken on the bed of vegetables in the roasting pan, breast side up. Add a final season of salt and black pepper. Drizzle additional olive oil over the chicken.
6) Roast the chicken for about an hour until it is cooked. If it starts to brown too much, place a foil over the chicken and continue to roast in the oven.
7) To serve, either carve at table or cut into 8 pieces and place on platter. Serve vegetables separately and pour the gravy into a gravy bowl.