I have not made a fondant cake for a long, long time and decided it was time to put in some practice. I decided to try out this particular design from "Cake Shaping" by Helen Penman which I had borrowed from the local library.
The fondant is home-made and the cake itself is a chocolate sheet cake. The original design had a pair of hippos but somehow I could not manage to get the hippo's face. After several attempts I gave up and went with little piggies instead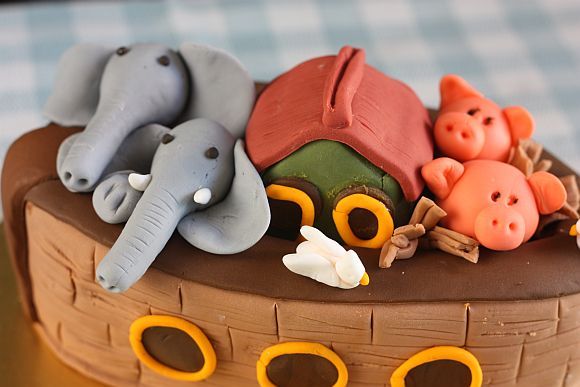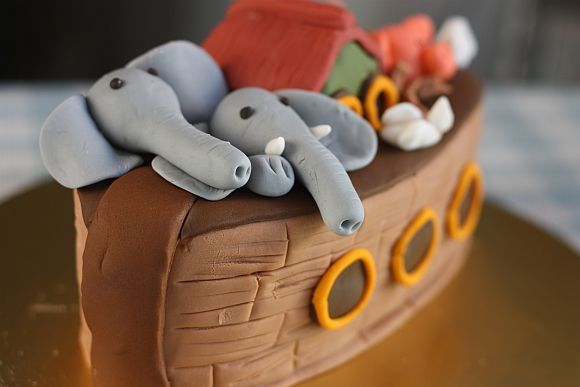 Chocolate Sheet Cake
Recipe Adapted from
Joy of Baking
1 1/2 cups (195 grams) all purpose flour
3/4 cup granulated white sugar
1/4 cup (25 grams) unsweetened cocoa powder (not Dutch-processed), sifted
1 teaspoon baking powder
3/4 teaspoon baking soda
1/4 teaspoon salt
1/3 cup (75 grams) unsalted butter, melted
1 cup (240 ml) warm water
1 tablespoon lemon juice (or vinegar)
1 teaspoon pure vanilla extract
Method:
1) Preheat oven to 350 degrees F (177 degrees C) and place rack in center of oven. Grese a 8 inch (20 cm) square cake pan,
2) In a bowl stir together the flour, sugar, sifted cocoa powder, baking powder, baking soda, and salt. Add the melted butter, water, lemon juice, and vanilla extract.
3) With a fork, mix all the ingredients together until well blended. Bake in preheated oven for about 30 minutes, or until the cake springs back when lightly pressed and a toothpick inserted in the center of the cake comes out clean. Remove from oven and place on a wire rack to cool.