I really could not help myself and I do apologize for posting yet another strawberry tart recipe in less than a month. But who can say no to such juicy, red strawberries which were on sale. I bought two punnets over the weekend, without much thought on what I would do with them first.
Conveniently though I already had a frozen, unbaked tart shell in the freezer (which I think had been there for quite a while now). I decided I would do something simple, so simple that I resorted to using instant custard filing for the tart filing. Usually I would make my own pastry cream, but heh if "short-cuts" taste equally as good and really saves you a heck of a time, I say why not!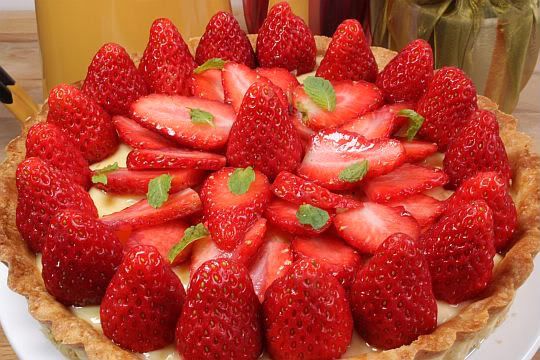 Strawberry Custard Shortbread Tart

For the Shortbread Pastry
Makes enough for three 9" tart
Ingredients:
300g unsalted butter, softened
60g granulated sugar
125g confectioners' or icing sugar
1 tsp salt
2 eggs
560g cake flour
** Make the tart shell a day ahead
Method:
1) Preheat oven to 325F or 160C.
2) In the mixing bowl of a food processor, cream the butter. Mix in the granulated sugar, the confectioners' sugar and salt.
3) Add the eggs, one by one. Pour in the flour and mix thoroughly. Form the dough into a ball, cover with plastic wrap and refrigerate for about an hour.
4) Roll out the dough into a round shape, about 1/4" thick. Line the baking pan with the shortbread pastry and blind-bake for 25 mins. Remove the parchment and bake the tart for another 5 - 8 mins until it is golden brown.
5) Remove from oven and let it cool completely before adding in the filing.
To Assemble the Tart:
1) Using 1 packet of instant custard mix, prepare as per instruction. The cooked custard should be about 600ml, sufficient to fill a 9" tart pan. Sieve the cooked custard into a bowl and place a clingfilm directly onto the surface of the custard. This will prevent a skin from forming. Leave to cool slightly before pouring it into the baked tart shell.
2) Place the filled custard tart into the refrigerator and let it set for about 2 hours.
2) Use about 2 punnets of ripe strawberries for decoration. Just before serving, decorate surface of tart with either whole or sliced strawberries. For added colour, sprinkle tart with some fresh mint leaves.