Ever so often I would have an urge to bake bread. However as there is only myself at home, I would usually make a small loaf or at most two loaves and distribute one amongst my office colleagues. Some of my friends would say that I was mad to go through so much effort when one could easily get similar in a bakery, sometimes even cheaper. But then again it is the pure enjoyment of having to make it yourself and having first whiffs of loaves of bread baking in the oven. If you have ever made bread, you would probably agree with me that the first cut and taste of a fresh loaf is so, so good. Nothing beats this!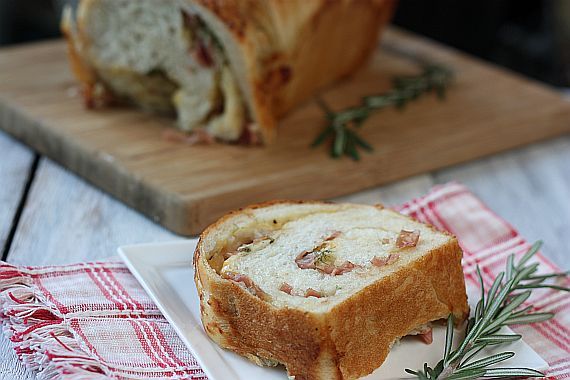 Ham and Cheese Bread
Ingredients
:
1 cup scalded milk
3 teaspoons instant yeast
2 cups bread flour
1/4 cup butter
1 1/2 Tbsp sugar
1 tsp salt
2 large eggs
2 - 2 1/2 cups bread flour
150g streaky bacon, diced
1 1/4 cup mixed cheddar cheese
1 small onion, diced finely
1/4 cup chopped mixed fresh herbs (basil,
1/4 loosely packed, cup grated parmesan cheese (for topping)
Method
:
1) Heat up a frying pan, add a little oil and fry the bacon until brown. Add in the diced onion and fry for another minute. Remove, set aside to cool. Once cooled, mix in the fresh herbs, set aside.
2) To start your dough, pour your milk into a heavy saucepan and scald. Do not allow the milk to come to a boil. Once it starts to simmer (small bubbles), you can take it off the fire.
3) Pour scalded milk into a large bowl and allow to cool to 105F. Add in 1 cup of bread flour and mix till smooth. Now, add in your instant yeast and another cup of bread flour. Mix with a wooden spoon. The dough will be firm. Cover with plastic wrap and allow to rest for 1 hour in a warm place.
4) Just before the dough is ready, mix your butter and sugar together in a bowl. Using your mixer beat on high speed the sugar and butter together till fluffy.
5) Add in your eggs and continue to mix till for another few minutes. Be sure to scrap the sides of the bowl a few times. Add the butter mixture to the dough and mix till smooth. Add in another cup of bread flour and mix.
6) Add a little flour to a flat surface and continue to add in the rest of the flour. Knead for 8 minutes. You may or may not need all the flour. You want to dough to be a little on the sticky side. But, not sticking to the table.
7) After kneading for 8 minutes, roll the dough into a small rectangle (like a swiss roll) to fit your loaf pan. Sprinkle the bacon mixture all over the dough leaving a 1/2" side. Then sprinkle the cheddar cheese on top. Taking the longer end start rolling the dough away from you as tightly as possible. Seal the seams and tuck in the ends underneath the roll.
8) Place the roll into the loaf pan in a zigg zagg fashion. Cover with plastic wrap and allow to rest for 1 hour or till double in bulk.
9) Preheat oven to 180C.
10) Using an egg white or milk wash, brush the top and then sprinkle with grated parmesan. Bake for 30 - 35 minutes. If your pan is small, the baking time should be shorten accordingly. The loaf should sound hollow when taped on the bottom. Place onto a wire rack and cool.
Note: You can use a mixer with a dough hook to knead the dough instead of doing it by hand. You can also shape the bread into rolls or smaller loaves.